Dear Potential Employer:
In response to your job posting I would like to submit my qualifications as a graduate from Canada's best Mobile Application Development post graduate program, backed by a Network Engineering Technologist diploma and a three year Computer Programmer Analyst diploma.
Your company will benefit, not only from my nine years of experience as an Information Systems Manager for a government agency, but from the support of my personal learning network including my Mobile Application Development mentors and peers …
N
ot exactly upbeat like my previous blog entries but employers take hiring new employees very seriously.
And rightly so. Hiring the wrong employee can cost a company a lot of money, time, training and their reputation as employees are the face of the company.
Even hiring the right employee can be expensive. It is said that a new employee is grossly overpaid in their first year and grossly underpaid every year thereafter. Perhaps this is the reason the average length of employment, for new hires, is three years.
And, it is a difficult job, choosing a new hire. After discarding the inattentive and the "Englishly Challenged", it is likely a panel comprised of an HR person, who can't possibly know the intricacies of all positions in the company, a manager who has an ideal candidate in mind and a technical person who is, well, technical and is hoping that one of the bright new prospects will be a bright new employee, will be tasked with sorting the wheat from the chaff. It is not likely that any of these people is a professional interviewer. The best they can do is work with what we give them, resumes, cover letters, references, looking into our social media and a background check. Maybe a hunch as well.
The best we can do is prepare, research, and supply them with excellent resumes, cover letters and references. And maybe clean up our social media.
And even if this interview is the brick wall, the next one may be the door.
The future's so bright, I gotta wear shades.
Keep in touch.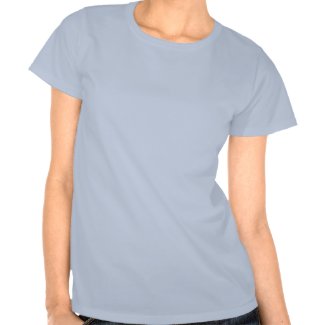 Delivered from Temptation T Shirts
by
damccaskill
Look at other Merchbooth T-Shirts at
zazzle.com