G

eneral Delivery - from the 1830 - 40's Americanism, although there is the international term Poste restante.
In the old days you could send a letter or parcel to a post office near where someone would be traveling and they could pick it up. No need for a home address.
Before greed and bean counters took over, regular postal service would deliver letters and the occasional small parcel right to your door.
This had its pros and cons
Pros: You didn't have to leave your house to get junk mail, or as I call it, kindling for the wood stove.
You local mailman might know you, so even if the address on the letter was not quite right, the letter would still be delivered to you.
Also if they peeked in your windows and saw you lying unconscious on the floor they could go for help.
Cons: Your local mailman knew all your magazines came in plain brown wrappers.
He would trespass on your property, peek in your windows and shove junk mail through the mail slot.
Well, Canada Post being forward thinking and ever mindful of the bottom line thought that it was costing a heck of a lot of money to have people bring the mail to every home so in addition to having P.O. boxes that you could pay for, they would just start leaving your mail in
community mailboxes, or
super mailboxes as they were commonly called, at the end of your road. Or in some other neighbourhood entirely.
Not that handy for the elderly or handicapped or anyone actually but more cost effective.
But

now

people can be in touch with whomever, wherever in seconds thanks to the Internet.
No need to buy a pricey card and apply extra postage.
But you can buy cards and postage if you really want.
No more trundling down to a postal outlet with cards, letters or packages. A quick e card, photo or even a video and it is there almost as soon as you hit send.
And drop shipping to the recipient's home, P.O. Box or community mailbox from an on-line retailer is just a credit card and a mouse click away. Just order on-line and you never have to see the inside of a postal outlet ever again.
Unless someone sends you a parcel.
Do not worry that the post office is going to go the way of the Pony Express (they'd deliver your stuff on a horse, how cool was that?).
In an effort to firmly establish them self as a major player in the 21st Century, Canada Post is running an advertising campaign on TV about a service,
FlexDelivery™,
whereby you can have your post delivered to any one of their post offices for you to pick up.
Sounds a lot like general delivery to me.
And if a western poster reminiscent of the Pony Express is more your thing -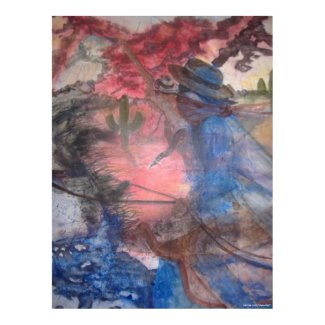 Western Riders, U.S.A. Poster by dequilla
See additional Posters & Art online at Zazzle