As part of my
Mobile Application Development
course at
Canadore College
, I have to blog, to market myself and my wares.
This marketing must be crafted in an online socially acceptable manner to avoid alienating my peers and potential customers.
In marketing you should offer value. You should also know your customer.
But what if you get this wrong? How could an aspiring app programmer or business cause a rift between him/herself and the demographic of choice you may ask?
Why, it's easy. Just follow the example of my cable company,
Eastlink
.
But how did they raise my ire you ask?
Even 'tho I duly overpaid every month for Internet and 70+ cable channels that I don't watch, Eastlink thought they'd sweeten the deal by bundling in a service I don't want ( a land line ) and charging me less for three services than I currently pay for two.
But, Dave, it's just an offer to add value.
Value would be meeting the needs of the customer. There was no offer of paying less for the two services I use. It is kind of a backhanded offer for their customers who don't need or want a land line.
So, Dave, I can see why you might be ticked at paying more for less but there must be more to it than that.
Well, secondly, they are charging me more for less but firstly, they showed their ignorance of me as a customer. In spite of a long history of phone calls in English, emails in English, my profile on their website in English and their database showing my choice of paper billing in English, they had an automated voice (
my thoughts on telemarketing
) call and mumble something in French ( sounded like Jamie Excuse ). French? Je pense que non.
And then, it hangs up.
Answering this automated call confirmed that I was available and my number was added to a telemarketer's queue, one of which called.
After expounding on the beneficence of the company's offer, the telemarketer asked if I was interested.
I said "No"!
I also said I had been contemplating cancelling the cable TV service in favour of a satellite company's offer of all things HD and a
free
PVR.
He told me satellite service was not as reliable as cable.
I said in that event I would watch shows that I had recorded on the free PVR.
Or watch Netflix.
He said I was making a mistake and rung off.
Guess the customer is not always right. Definitely not a student of
Dale Carnegie
.
If you have any comments on this blog, feel free to
Post a Comment
below.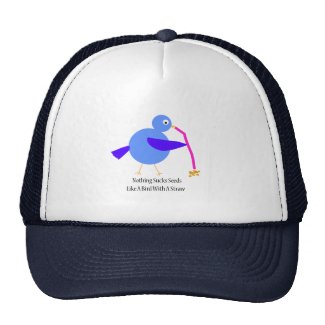 Success Hat
by
damccaskill
Check out Merchbooth Hats online at
zazzle